Weekend Rates
Weekend rates are only available by calling 855-791-LIMO (5466)
Weekend (Fridays & Saturdays) rates vary based on Pick up time, Return, Number of passengers, mile radius, availability of limousine, early or last minute reservation, number of stops, type of event last but not the least the type of weekend (long weekend) or Holidays.
Limo prices & Packages
Best Prices in Town
At Way To Go Limousine we offer several types of limousines for your luxury transportation needs. We offer Charters and Point to Point transportation services at a very affordable price. It is never too late to call and inquire about our rates and Prices. Customer service representatives and dispatching team is working systematically to accommodate your request.
Unlimited stops & Mileage (must be 4hr minimum Charter)
Bottle of Champagne & Beer (must be 21+)
Ice, water, pop and soft beverages
Red carpet service, Décor & Jut Married Sign
Please note:
20% Gratuity in NOT included in the price. Please pay gratuity on regular price. Thank you
Please check out Terms & Conditions for policies.
Sunday thru Thursday – Rates
Effective November 1st 2014 Expires February 28th 2015
Party Bus Limousine
- up to 28 Passengers
3 units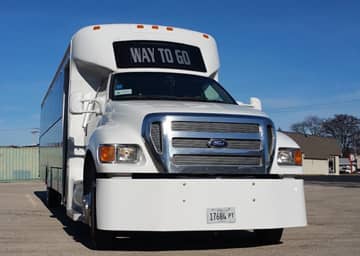 Sunday thru Thursday
| 8hr Package | 6 Hour Package | 4hr Package | 3hr Package |
| --- | --- | --- | --- |
| $150/hr | $175/hr | $200/hr | $225/hr |
| $1200 | $1050 | $800 | $675 |
SUV Stretch Limousine
- up to 20 Passengers
6 units
Sunday thru Thursday
| 8hr Package | 6 Hour Package | 4hr Package | 3hr Package |
| --- | --- | --- | --- |
| $100/hr | $115/hr | $150/hr | $175/hr |
| $800 | $690 | $600 | $525 |
| Hummer | Escalade | Pink Hummer |
SUV Stretch Limos
- up to 14 Passengers
2 units
Sunday thru Thursday
| 8hr Package | 6 Hour Package | 4hr Package | 3hr Package |
| --- | --- | --- | --- |
| $90/hr | $100/hr | $125/hr | $150/hr |
| $720 | $600 | $500 | $450 |
| Ford Expedition | Ford Excursion |
Lincoln Town Stretch (tuxedo style)
- up to 10 Passengers
1 units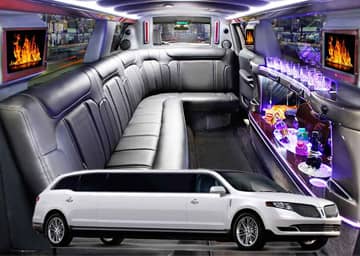 Sunday thru Thursday
| 8hr Package | 6 Hour Package | 4hr Package | 3hr Package |
| --- | --- | --- | --- |
| $70/hr | $80/hr | $90/hr | $100/hr |
| $560 | $480 | $360 | $300 |
Point to Point Prices – Round Trip
| Limousines | Friday – Saturday | Sunday thru Thursday |
| --- | --- | --- |
| Party Bus – up to 25 passengers | $800 | $600 |
| SUV Stretch Limo – up to 14 passengers | $400 | $350 |
| Lincoln Town Stretch – up to 10 passengers | $298 | $258 |